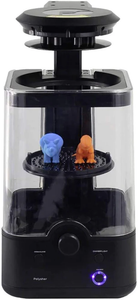 Polysher™
The Polysher™ is a desktop post processing unit designed to remove layer lines from PolySmooth™ and PolyCast™ prints. The Polysher™ uses Polymaker's Layer-Free™ technology to create a fine mist of alcohol which evenly smooths the model.
Can the Polysher™ be used with other solvent than IPA?
No, the nebulizer is designed and calibrated to only work with IPA, moreover other solvents may damage the Polysher™.
The Polysher™ will not work with PLA.